Bob Rolfe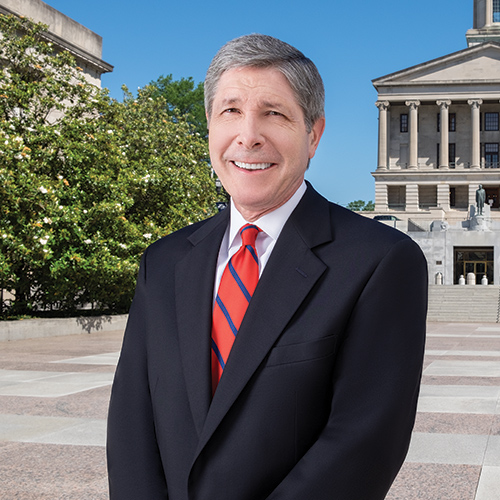 Bob Rolfe was sworn in on March 1, 2017 by Gov. Bill Haslam to serve as the commissioner of the Tennessee Department of Economic and Community Development. The department is responsible for recruiting business and industry to the state as well as Tennessee's overall economic growth.
Mr. Rolfe has more than three decades of experience in business and investment banking in Tennessee.
Before joining TNECD, Mr. Rolfe held the position of CEO and chairman of Medical Reimbursements of America, Inc., a company that provides specialty reimbursement solutions to improve financial performance for hospitals and health systems nationwide. In addition to his CEO role, he also served as the company's CFO, overseeing accounting and finance matters.
Prior to his time at MRA, Mr. Rolfe co-founded West End Holdings in 2011, a Nashville-based private equity partnership. From 2005 to 2011, he was chairman and CEO of MyOfficeProducts, Inc., a $125 million office supplies distributor that he grew and sold to HiTouch, Inc. He spent the first 18 years of his career as an investment banker at J.C. Bradford and Co.
Alongside his work in the Nashville business community, Mr. Rolfe has been an active board member of several education, healthcare and community organizations.
He currently serves on the advisory board of Vanderbilt Children's Hospital. Mr. Rolfe was previously chairman of the Oak Hill School Board. He has also served on the Cheekwood Botanical Gardens executive committee, University of Alabama College of Commerce Board of Visitors, Harpeth Hall School Board and Currey Ingram Academy School Board.
Mr. Rolfe received his E.M.B.A. from the Owen Graduate School of Management at Vanderbilt University and his B.S. from the University of Alabama's School of Commerce and Business Administration. He and his wife, Kathy, have been married for 33 years and have three children. He is a member of First Presbyterian Church in Nashville, where he has served as an elder for two decades.