Tennessee's film and television industry is booming, and we believe in rewarding the professionals who keep it that way.
As long as you're spending a minimum of $200,000 on qualified Tennessee spend, either per episode or per project, you are eligible for a cash rebate in the form of a 25% grant. We're not big on red tape or fine print; there's no per project cap, and this is not a first-come, first-served program, which is subject to our available funds and our discretion.


| | Feature Films & TV Pilots | Scripted TV Series |
| --- | --- | --- |
| Incentive | 25% | 25% Labor + 5% promo on resident labor |
| Type of Incentive | Grant | Grant |
| Refundable / Transferable / Carryforward | Yes / No / NA | Yes / No / NA |
| Minimum Spend | $200,000 per project | $500,000 per episode |
| Qualified Labor | 1st $250k of Each Resident | Resident Labor capped at $250,000 per resident. Total Non-resident labor capped at $2 Million |
| Qualified Vendor Expenses | 25% | 25% |
| Loan out Withholding / Registration | No / Yes | No / Yes |
| Screen Credit Required | Yes | Yes |
| Promotional Incentive | No | Additional 5% grant on resident labor for qualified projects that include a Filmed in TN logo |
| CPA Audit Required | Yes | Yes |
| Sunset Date | None | None |
*As of September 1, 2018 Qualified Scripted Television Series spending $500,000 per episode in Qualified Tennessee Spend (QTE) and including a Film Tennessee Logo will receive an additional 5% uplift on Tennessee Resident Labor and up to $2,000,000 per season in compensation expenses for Qualifying Non-Resident labor.
Qualified Expenditures
Qualified expenditures include production costs that are incurred in Tennessee during pre-production, principal photography and post production. This includes payments for goods and services used in the state in connection with a qualified production that have been either purchased from a Tennessee vendor or paid to a Tennessee resident. Eligible spend, with regard to wages, is limited to the first $250,000 in wages, salaries, fees, per diem and fringe benefits paid to a Tennessee resident. Any expenditure incurred before the "Effective Date" is contractually assigned and fully executed will not qualify.
Please reference Appendix B of the ("TEC") Production Incentive Guidelines for a full list of eligible and ineligible expenditures.
Funding for the program is subject to annual appropriations by the State Legislature.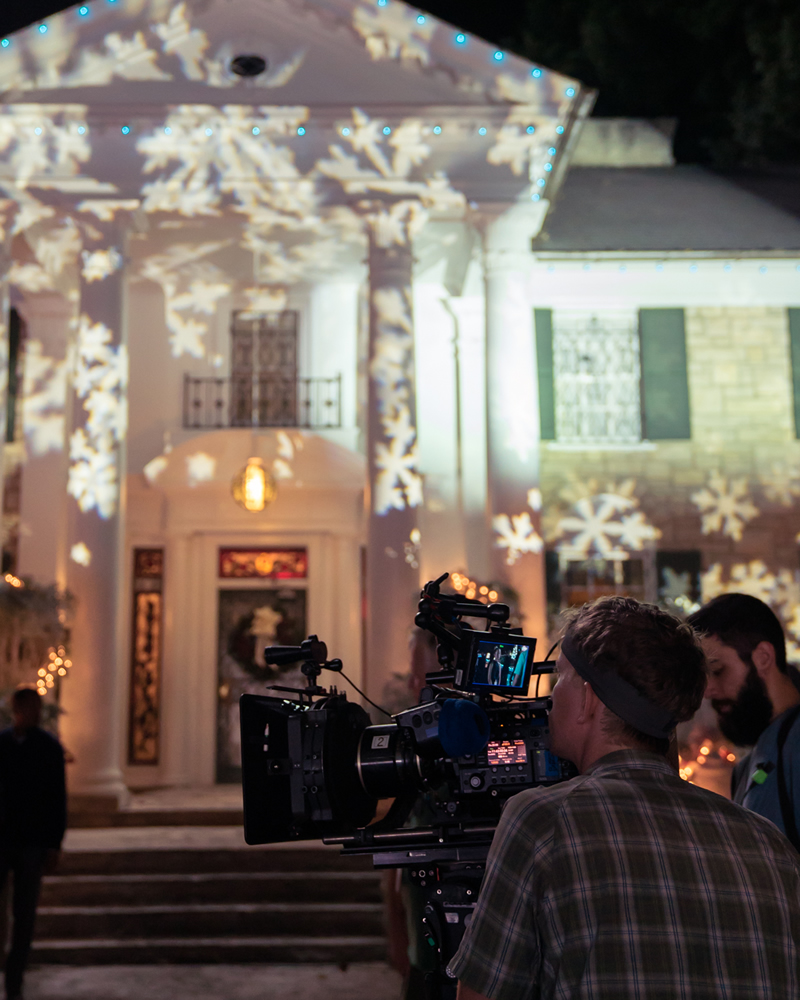 GRACELAND CHRISTMAS


Hotel Occupancy Tax
After staying 30 continuous days at a hotel, production staff and crews may qualify for a rebate of all previously paid Hotel Occupancy Taxes. From then on out, you are no longer charged this tax. This tax is levied through county or metro governments, so you must check with the County Clerk's office or your hotelier to see if rebates apply. All rebates are directly distributed by the hotel.
State Sales Tax
After staying 90 continuous days at a hotel, production staff and crews will qualify for a rebate of all previously paid Occupancy Sales tax, and will no longer be charged this tax from there on out. As with the Hotel Occupancy tax rebate, all rebates are directly distributed by the hotel.
This tax is levied through the Tennessee Department of Revenue. Please reference Tenn. Code Ann. § 67-6-205(c).


Income Tax
There are no state income taxes on wages in the state of Tennessee.


Free Locations
One of the best things about filming in Tennessee is access to state-owned buildings, parks and roads. Most state-owned property is available free of charge. If you would like to film at a state-owned location, just send an email with the location listed in the subject line and we'll help you make it possible.


Permitting Fees
There are no state permitting fees in Tennessee.


Forms and Applications
Prior to production, please review the TEC Production Incentive Guidelines, forms & applications available for download.
Download the Production Incentives Guidelines
Download Form A – Registration for Certification of Conditional Eligibility
Download Form A: Annex I – Due Diligence Questionnaire
Download Form B – TN Declaration of Residency
Download Form C – Incentive Application
Download Form D – Request for Additional Reservation of Incentive Funds
Download Statutes That Created Incentives
Download Grant Pre-Reimbursement
Download Qualified Expenditures
Download Appendix F: AUP Testing
Download Appendix D: TEC Data Requirements
Download the Filmed in TN Logos and Brand Guidelines

Please submit all required forms and applications, including all form and application attachments, electronically to tn.entertainment@tn.gov. To learn more, call (615) 741.3456.